Cement is the world's most consumed product after potable water.
Cement production accounts for 25% of all industrial CO2 emissions - McKinsey
Using existing technologies to reduce emissions may increase cement production costs by up to 115%
For cement companies the true challenge goes beyond the technical complexity of decarbonising the industrial processes themselves. European consultancy Material Economics reported that using existing technologies to reduce emissions may increase production costs by up to 115% – making green cement uneconomical for net-zero construction projects and threatening the long-term survival of cement producers.
New alternatives for Cement
Genvia can help companies reduce the power consumption and cost of low-carbon cement production, providing a more affordable pathway to a greener product.
Put waste heat to work
Thermally-charged electrolysis not only enables oxy-combustion, but also the recycling of clinker heat and condensed mill exhaust fluids.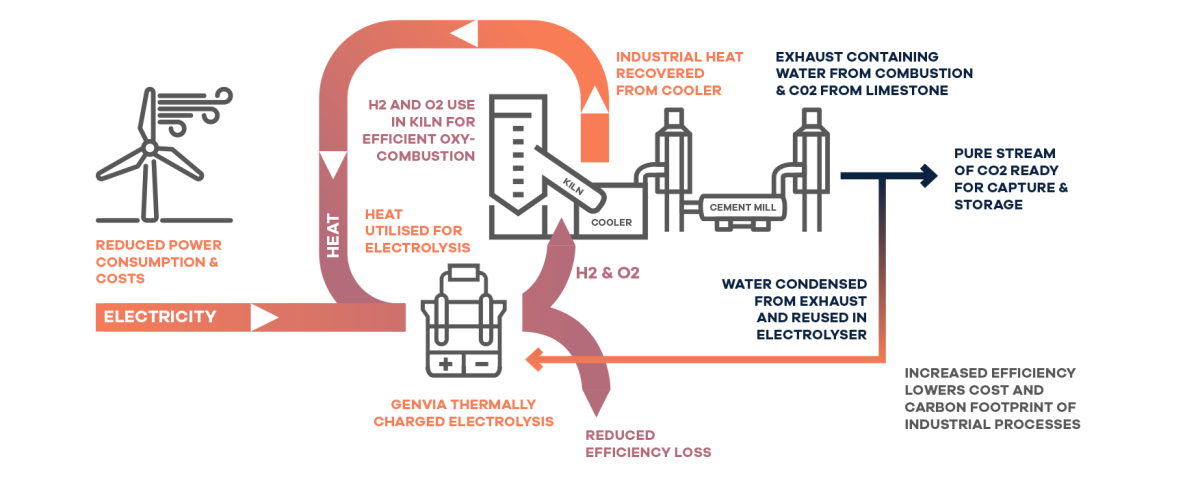 More hydrogen, fewer losses

Genvia's high efficiency solid oxide technology delivers more energy-efficient electrolysis performance when compared to existing PEM and alkaline-based systems.
*Percentage recycle improving with development
Numbers in kWhr/kg H2
However hydrogen fits into your decarbonisation strategy, speak to Genvia about ways to produce higher volumes of H2 in-situ at a lower electricity input.